Former Wicker Park Fur Cleaning Site Becomes Smart Homes
According to long-time Wicker Park resident Richard Moroski, the funny little triangular lot at the corner where Hermitage and Moorman Street meet used to be the location of a fur cleaning business with a squirrel as its logo. But that was a long time ago and times have changed.
The fur cleaning building was torn down. The property was sold and the lot remained empty for many years. Plans came and went. But it is an oddly shaped lot (81 x 83 x 122) and nothing ever came to fruition. So the empty space was often used as an impromptu dog park. When the real estate market took a hit in 2008, the property went into foreclosure shortly thereafter.
The vacant land sold in 2012 while in foreclosure for $302,000 to a developer with a lucrative idea and good timing.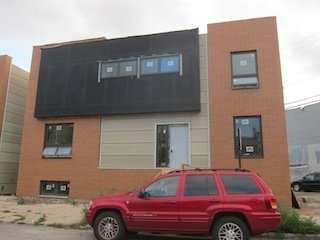 An ideal location just steps away from the corner at Paulina and Milwaukee Avenue, two 'smart' single family homes have been built - and sold.
Listed by The Clybourn Group, both of the single family homes at 1320 N. Moorman and 1324 N. Moorman sold in just one day. According to the description provided via the MLS, these contemporary homes offer tankless water heaters, no VOC paint, 90+ efficiency HVAC systems and are 3.0 energy star rated.
The single family home at 1320 N. Moorman was listed for $789,000. It has 4 bedrooms and 3 1/2 baths and includes a deck, large family room and detached garage. The estimated square footage is 2600. It is currently listed as pending and work is still underway.

The second single family home at 1324 N. Moorman was listed for $829,000. It is also a 4 bedroom 3 1/2 bath home but is larger at 2700 square feet. The lot is also slightly larger. This home also includes a deck, office, larger family room and 2 car garage. It is also currently in pending status.
From fur cleaning to sustainable buildings, times have really changed. Final sale prices will be provided once the home sales close.
Published by Wicker Park, Bucktown real estate contributor Thyra DeCicco. Licensed IL Broker. @properties. 1875 N. Damen Avenue. Bucktown. 773-432-0200. Photos courtesy of The Clybourn Group.