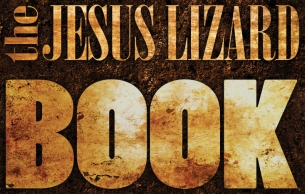 image courtesy of The Empty Bottle
Cohosted by Curbside Splendor and Akashic Books, David Yow, David Sims and Mac McNeilly from THE JESUS LIZARD will be participating in a panel discussion about the band and the book, which will be moderated by Rian Murphy of Drag City Records tonight at The Empty Bottle - 1035 N. Western Avenue.
The event is 21+ and is $8. Doors open at 6:30pm. You can also RSVP for free admission.The evening will also feature JOE MENO and MEGAN STIELSTRA, who will be reading new work about the Jesus Lizard, specifically written for event.
About the book:
The Jesus Lizard Book is a coffee table affair of exclusive photography, art, and other imagery with written pieces by all four members of the seminal indie rock band the Jesus Lizard. The layout is stylish and elegant, particularly in contrast with the harshness of much of the band's music. Included are many Polaroids by David Wm. Sims, a delicious recipe by David Yow, a concise list of every show the Jesus Lizard played, and writings by two producers who recorded the band—Steve Albini and Andy Gill. There is biographical material of each member that covers childhood to the demise of the group. Other contributors include, Mike Watt, Alexander Hacke, Steve Gullick, Rebecca Gates, Jeff Lane, Sasha Frere-Jones, KRK, Bernie Bahrmasel, and many more... More info at Akashic Books.