April 12, 2012
Hello and welcome to this week's edition of your Insider Weekend Guide. For the week ahead, we've included many great events, like the Chicago International Movie & Music Fest, happening throughout the neighborhood and have also included a little news about new developments and eateries heading into Wicker Park. For full details, just click on the photos below. If you'd like to receive information throughout the week, be sure to follow us on Facebook and Twitter. We would love to include you. Thanks, as always, for joining us and we'll see you in the neighborhood.

Community
Community Meeting - Miller Lumber Site
We reported earlier that a new Wicker Park development is being planned and Lettuce Entertain You Restaurants had been invited to participate in the development at 1815 W. Division - the site of Miller Lumber. Looks like the original plan is being revised and LEY hasn't fully committed to the project yet. If you'd like to participate in a meeting to discuss next steps on this development, Alderman Moreno is hosting a meeting on April 26th at 1148 N. Honore. The details are here.
Galleries/The Arts
I Can Do That at Variable Space
I CAN DO THAT is independent curator Jenny Lam's highly anticipated follow-up to last fall's acclaimed Exquisite Corpse show. At the exhibition, in front of each piece will be the art supplies the show's artists used to create their respective works. And visitors are invited to 'improve' the work. The opening reception is scheduled for Friday at 1564 N. Damen Avenue.

Wine Tasting & Painting - Tonight
Looking for something fun - and different - to do? Head to Arts N Spirits tonight at 1921 N. Damen Avenue for their Painting & Wine Tasting Event. Winestyr brings thousands of wines to the US and you can sample a few tonight and come home with a great painting too. The details are here. Wine tasting starts at 6:30pm.

Music
Chicago International Movie & Music Fest

Starting tonight do not miss the 4th Annual Chicago International Movies & Music Festival converging upon the Wicker Park and Logan Square neighborhoods. The festival offers an incredible opportunity to view a wide variety of movies, documentaries, live performances, music videos and more from a range of countries and cultures. The common theme throughout: Music. A don't miss.

Do Division Announces Additional Bands

Hot off the press the folks behind Do Division have announced more bands heading to Wicker Park this June. They include: The Antlers, Pinebender, Le Butcherettes, O'Death, BBU, Mannequin Men, and Murder by Death. Stay tuned for additional details as they become available.

Kids These Days at Double Door
Barely out of high school, Kids These Days blend a wide range of influences -- hip hop, jazz, soul, blues and classic rock into a unique and fresh sound that breaks boundaries while honoring America's musical heritage. Catch them Friday night with Rapper's Delight.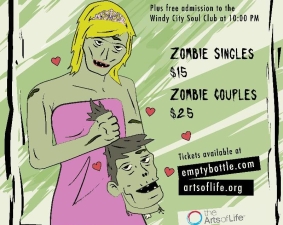 The Zombie Prom Fundraiser

This Saturday head to The Empty Bottle where you can relive your high school prom "zombie-style" and contribute to a great cause. Proceeds from The Zombie Prom benefit The Arts of Life. Get Up with the Get Downs will cover James Brown and Wild Blue Angel will cover Jimi Hendrix. If you can't make the event, you can also donate to The Arts of Life directly.

Restaurants
Close friends Schwa Chef/Owner Michael Carlson and Bucktown's Ripasso Chef/Owner Theo Gilbert will go head-to-head in a contest to benefit Ruck 4 The Kids. The event, which takes place at Ripasso (1619 N. Damen) on April 15, will help raise money and awareness for Chicago Wapiti RFC, Youth Rugby Program. Reservations are going fast
French Vietnamese Cuisine & Fantastic Deals

Off the beaten path, MC Restaurant and Lounge at 1401 N. Ashland Avenue is the only French-Vietnamese restaurant in the neighborhood and they serve up delicious, fresh authentic food. They also offer FREE parking and FREE wi-fi for their customers...and they also deliver. But that's not all, for the next 2 weeks you can also score a couple of great deals. Check out all of the details here.

Wicker Park's Newest Pizzeria Plans Summer Opening

Crust closed earlier this year at 2056 W. Division Street and Pizano's Pizza & Pasta is planning to move in. With roots back to the original Pizzeria Uno, their award-winning deep dish heads to Wicker Park this Summer. We're thrilled to see the new businesses opening on Division Street and look forward to Pizano's opening in the very near future.

Win Brunch for 2 for

this

Sunday
Want to be entered into a drawing to win Brunch for 2?
Check our Facebook page later for our article about Blue Star Bistro's amazing brunch. We'll be publishing the information there. You have until 5pm Friday to enter. And we will pick a winner via a random drawing Friday evening for Sunday Brunch. Click on the photo for additional "how to" details.

Real Estate

Originally listed for $1.7 million dollars, this four bedroom home on Charleston in Bucktown is in foreclosure and is currently listed for $629,900. The description via the Multiple Listing Service is here and it sounds like a great deal.
Retail/Shopping
Handmade Market Saturday
It's time again this weekend for the Handmade Market. This Saturday at Noon you can shop at the Empty Bottle where the market will be held. 33 sellers of handmade jewelry, clothing, handbags and more are featured.

Heath & Renewal Celebration & Fundraiser

Elevenzees is hosting a health & wellness event this weekend where you can try all of the classes they offer in Temple Beautiful (ie: Yoga, Nia, Pilates) while trying out consultative services like: Intuitive Consultation, Craniosacral Therapy, Acupuncture & more. A portion of the proceeds will be donated to the development of the LaSalle II school playground.

Greenheart Shop's Ice Cream Social
Just in time for Earth Day,
do not miss Greenheart Shop's Fair Trade ice cream social next weekend. The ice cream social will be held at their Wicker Park shop next Sunday from 12

pm-5pm and it's free!
Based in San Francisco, plans for Sprout have been in the works for months and they're hoping to open in April. What can you expect to find at Sprout? Organic and healthy clothing, bedding, nursery items, toys and products for moms too.

Are you a Wicker Park or Bucktown Business? Get Featured! And, as we mentioned earlier, for up-to-the-minute information throughout the week, please join us on Twitter and Facebook where we publish information daily. We'd love to have you.
Have a great weekend and we'll see you in the neighborhood.
The Wicker Park Bucktown Insider's Guide