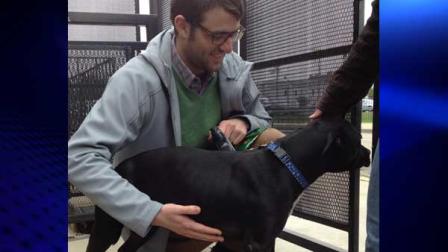 Last week we began sending out an APB for Hope; a skittish black pit bull pup who had been brought to Wicker Park by her owners Dan and Mary Jo Dorman. They were visiting their son Chris, a Wicker Park resident, and were out for a bike ride when the dog escaped from the son's apartment.
The next day, Hope, stopped traffic on the Kennedy Expressway at Armitage running through the lanes but wasn't caught by police.
We posted Hope's story everywhere with many in the community sharing the information and spreading the word. Over a week later, a West Town woman named Autumn Chim was walking her dog and Hope followed them home. Autumn had heard there was a search on Facebook looking for this dog and contacted us this morning via the Insider's Guide website. We were unsure, however, after emailing the owners if this was - in fact - their dog.
Chris went to see if the dog was Hope and we're happy to report they've been reunited per an ABC7 News Report today. A very warm thank you to all who helped us spread the word.