Buckt -Tober Fest: No Goats No Glory
Saturday September 20th
Bucktown Bars
$40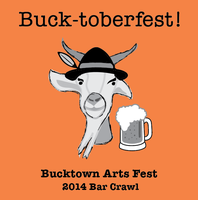 No goats, no glory!

Join Buck-toberfest & celebrate beer, bars & good deeds.


Roam the best bars in Bucktown with us
while we raise money for arts education.

Tickets are $40
& include a limited edition tee shirt, drink specials
and the chance to meet some goat-rageous people.
Start time: 12:00 pm
at The Corner Bar - 2224 N. Leavitt
We'll start out at one of the best corner bars in Chicago. Just a block from Holstein Park, the building of The Corner Bar has stood the test of time for nearly a century and prides itself on being a neighborhood staple with craft beers and a mission to provide genuine fun with no frills attached.

1:00 pm – The Map Room
2:00 pm - Jack & Ginger's
3:15 pm - Floyd's Pub
4:15 pm - Green Eye Lounge
5:15 pm - Lemmings
6:15 pm - Lottie's
Why Buck-tober Is Important
The Bucktown Arts Fest is a non-profit, all volunteer run festival with no paid staff. Each year, we put on the festival that is free to the public and use all of our proceeds to fund and develop arts education at Hostein Park and in local classrooms. In the face of rising costs, we need your support to continue our mission.
Your donation is tax deductible.
Can't make the pub crawl?
Whether you're a Buckaroo or a Daddy Warbucks,
join our Buck Up Club and make a difference.