After-Holiday Party Tonight in Bucktown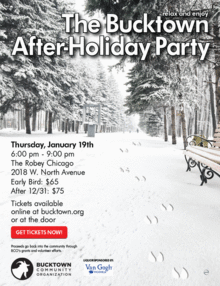 January 19, 2017- Live in the neighborhood and would like to get more involved in your community? The Bucktown Community Organization (BCO) is hosting a Holiday After-Party tonight from 6pm-10pm at The Robey. Tickets are $75 and include food and an open bar. The Robey is located at 2018 W. North Avenue.
For those who may not know, the Bucktown Community Organization is an all volunteer neighborhood group dedicated to making the community a better place to live. The BCO will address any issue impacting the neighborhood directly including everything from the LED digital billboards to crime to 5am liquor licenses.
To learn more head to the Bucktown Community Organization website at www.bucktown.org.